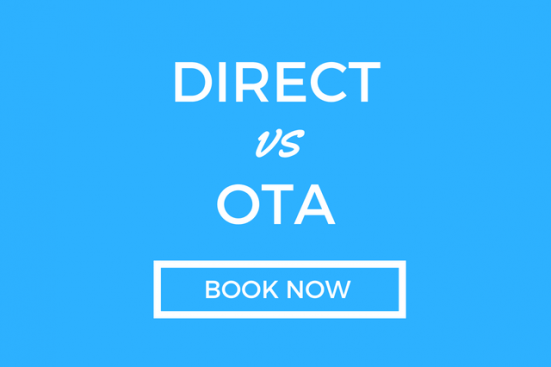 How to Drive Direct Bookings in the Hospitality, Travel and Tourism Industry
Direct Hotel Bookings Strategy vs Online Travel Agent Reservations (OTAs)
Online Travel Agents (OTAs) are necessary but can be costly in the long term if the balance of Direct vs OTA bookings isn't found. OTAs offer a greater reach for industry providers but the cost of that reach usually comes in the form of heavy commissions of between 10 and 30%.
Let's take a hotel as an industry example..
How would a hotel benefit from increased marketing activity of a direct bookings campaign?
Increased online hotel bookings vs OTAs
Finding the right balance between direct bookings vs OTA bookings so that commission payouts are decreased
A better rate for the room which will boost your Average Daily Rate (ADR)
i.e. Guest 1 books via OTA @ €100 for 1 night
€100 minus 20% OTA commission = €80 room rate after commission 🙁
Guest 2 books via Hotel Website @ €100 for 1 night
€100 minus 2.5% hotel booking engine commission = €97.50 room rate after commission 🙂
Opportunity to upsell add-on services and longer-stay packages, leading to additional ancillary revenue and increased room nights
Decreased need for last minute deals on third-party deal sites by increasing demand earlier through direct marketing promotions
Increased customer loyalty through incentives, exclusive email marketing campaigns and loyalty programs – the customer is more likely to book direct next time
What are some things I can look at to increase online direct bookings?
Quality of your website and user experience
Incentives – i.e. Best Rate Guaranteed (your website rates should be on par or less than your OTA rates, never more than your OTA rates), Advance purchase deal (encourages early bookings so that when your occupancy gets to a certain level, you can increase the rate)
Work with local suppliers and attract new types of customers – build a package that includes a local supplier's product in order to appeal to a certain market.
Search Engine Marketing – SEO, Google My Business optimisation, Re-Marketing Ads for your website
Social Media Marketing and targeted Facebook/Instagram Ads – are you engaging with your customers and generating awareness of your brand to potential customers?
Website Conversion tools
Guest Experience during their stay
Online Reputation Management – are you replying to your customers' reviews online?
Email Marketing and automation
Loyalty Program – reward your customers by offering a frequent booker loyalty program which will encourage repeat business!
Integrate some of the above ideas into your marketing strategy and you'll begin to see an increase in direct bookings on your website.
Don't forget about your offline marketing activities as these support your overall marketing strategy and assist greatly in generating brand awareness and driving people to your website. Once they're at your website, the above ideas will assist you in converting them into direct bookings. Good luck!
Need some help with a direct marketing campaign? We have hands-on industry experience in this field and would be happy to work with your marketing/reservation team and booking engine provider to help you achieve your goals. Check out our range of digital marketing services or simply fill out our contact form with the subject line "Increase my Direct Bookings" and we'll be in touch with a plan to get you started!
Get in touch today for a free consultation – Contact Alex on alex@beesmartdigital.com or call +353867305437
Don't forget to follow us on Facebook for future tips, offers and competitions!